Madison Mallards serve up the winning pitch
May 22nd, 2013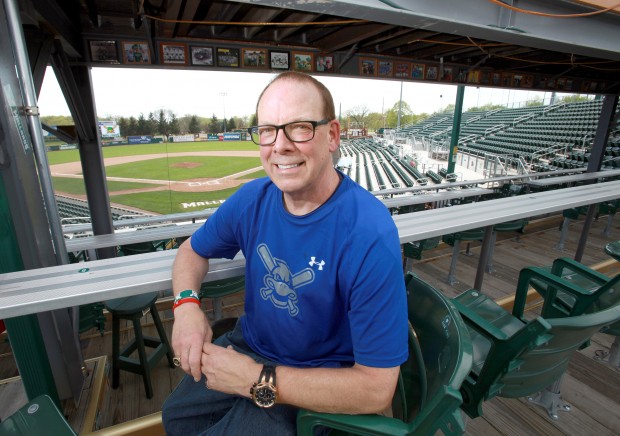 'From day one, it has constantly been about improving the facility and making fans feel like royalty. He's restored Madison baseball to where no one thought it could be.

- MALLARDS PRESIDENT VERN STENMAN
Ruly Carpenter, former owner of the Philadelphia Phillies, on how to make a small fortune owning a baseball team: "Start out with a large fortune."
Madison Mallards owner and lifelong sports fanatic Steve Schmitt remembers looking out at the smattering of spectators sitting on aluminum bleachers at Warner Park in the summer of 2001.
Schmitt had just paid $150,000 for a new franchise in the Northwoods League and couldn't help but wonder if his effort might go bust like three previous minor league baseball ventures in Madison did in the 1990s.
"Man, there were some nights back then when you could just about count everybody in the seats," said Schmitt, who also owns the Shoe Box in Black Earth and Rookies Food & Spirits near Mazomanie.
But as the Mallards prepare to open the 2013 season next Wednesday against the Eau Claire Express, filling seats is no longer an issue. In fact, standing-room-only is more like it.
The Mallards last year drew 217,143 fans, averaging more than 6,200 per game, which put them 23rd best for attendance among the 261 minor league baseball franchises in North America — and 2nd best among teams not affiliated with a Major League club.
Schmitt has pumped nearly $3.5 million back into city-owned Warner Park and with 350 seasonal workers, the Mallards are surely one of the largest summer youth employers in Dane County.
It's all a tremendous turnaround from earlier efforts to tap into the Madison market, long considered a tough nut for minor league sports due to the competition from the UW Badgers and an active population with a reputation for doing more than watching, especially during the summer months.
"I try not to think about how successful the Mallards have been, otherwise I get an inferiority complex," said Bill Terlecky, former general manager of the Madison Black Wolf, which went belly up in 2000 after five seasons here. "Those guys have really got it figured out."
Indeed. Schmitt, along with team President Vern Stenman and General Manager Conor Caloia, have turned Warner Park at Sherman Avenue and Northport Drive into one of the area's most popular summer attractions.
They've hit the Madison market spot-on: an emphasis on craft beers, a bike parking facility, promotions featuring the Seinfeld Soup Nazi and a mascot named after 1950s beatnik character Maynard G. Krebs. The team even staged a union night during the Capitol protests in 2011 that drew a huge crowd.
"From the beginning, I just wanted to see people having a good time. The idea was to create kind of a state park atmosphere with something for everybody," said Schmitt, 66, who jokes he took four years in the 1960s to earn a two-year degree in graphic design at MATC, where he also still holds the record for most shots taken in a game (23) as a basketball player there.
Yes, the Mallards do play baseball, featuring some of the top college players in country. But the real key has been "fun at the old ballpark" with affordable prices, creative seating and lots of food and drink. A lot of food and drink.
The team offers seven-game ticket packages for $95 that include all the ballpark food and soft drinks you can consume during the hour before the game.
The outdoor beer garden and picnic tables in the Great Dane Duck Blind — where for as little as $28 patrons get all the food and beer they can consume — has proven one of the best draws. (The team wisely advises against minors in the Duck Blind for Thursday, Friday and Saturday games).
For families, there is the 5,000-square-foot Meriter & Physicians Plus Backyard, a grassy berm in left field where fans set out blankets to take in the festivities while the kids run around. Tickets there are $8, with $1 from every ticket sold going to support the Madison Parks Foundation, the YMCA of Dane County and the Boys & Girls Club of Dane County.
And Warner Park itself — once little better than a high school-level baseball field — over the past decade has been transformed into a real ballpark with dozens of colorful banners, brick-look walls, stadium seats from the Wrigley Field and Camden Yards major league parks and this year a new video action scoreboard.
Perhaps most importantly, the Mallards have managed to develop strong relationships both with local businesses and the city itself. That is a change from the previous baseball franchises where sponsorship was tough to come by and relations with the City Council were often strained.
In 2011, the city committed $800,000 toward a $2.2 million upgrade of the Warner Park stadium. The old bleacher seating was removed and replaced with a true stadium bowl, moving the fans much closer to the action on the playing field. In fact, the only things remaining from the old ballpark are the two cement dugouts and the concrete block clubhouse.
Under a 13-year lease signed that same year, the team pays the city $50,000 annually (with a 3 percent increase each year) plus utilities to use Warner Park. The Mallards are responsible for maintaining the playing field, which also hosts some 90 high school and city recreation league games a year in addition to 35 Northwoods League games.
And aside from occasional grumblings from neighbors about noise or gripes from other users of Warner Park about finding a parking space on game day, the Mallards seem to operate with few complaints.
"I can't say enough about how they have reached out to the community," said Madison Parks Superintendent Kevin Briski. "It's obvious the ownership really cares about the product, the cleanliness, the food and beverage. It's a high-quality night out."
Dave Fritz, the owner of TRICOR Insurance and a driving force behind the reopening of the Potosi Brewery in southwest Wisconsin, has been a major supporter. The local insurance agency sponsors a seating area behind home plate that is the closest thing Warner has to corporate boxes.
The TRICOR/West Bend Club is a section where companies can host employee parties or bring in clients. An upper area allows guests to sit at tables while talking business — or even glancing at the action down on the field. There is also the TDS Triple Play Club down the left field line.
To Fritz, who grew up outside Potosi and still resides in rural Grant County, it all comes down to the Mallards owner and his passion for sports coupled with a keen sense of what customers want.
"Steve Schmitt is a marketing genius," said Fritz. "He knows how to promote and how to sell while making it fun. You take that personality and connect it with Vern and Conor, who are absolute baseball fanatics, and they have created this circus-like atmosphere where people are eating hot dogs and drinking beer and oh, by the way, there is a baseball game going on."
Team president Stenman likes to say that while many successful Wisconsinites dream of retiring to a cabin up north to enjoy the fruits of their labor, Schmitt decided to buy a baseball team and stick around town.
In fact, Schmitt is now an owner in three Northwoods League franchises: full owner of the Mallards, 50/50 with Stenman in the Wisconsin Rapids team and one-third each with Stenman and Caloia in the Kenosha franchise, which will begin play next season.
"Honestly, in 12 years of working with Steve, not once have we sat down and looked at the bottom line," said Stenman. "From day one, it has constantly been about improving the facility and making fans feel like royalty. He's restored Madison baseball to where no one thought it could be."
Long-known as a Big Ten football and basketball town, Madison has a rich baseball tradition too.
The UW made baseball its first official varsity sport in the late 19th century and by 1907 the Madison Senators were playing games on East Washington Avenue at the site where Breese Stevens Field was later built.
From 1920 into the 1940s, the Madison Blues were the city's minor league baseball team, playing in the old Tri-State league as an affiliate of the Chicago Cubs, sometimes facing barnstorming Negro League teams. Records from 1933 show the Blues losing 19-8 to the legendary Kansas City Monarchs before a crowd of 3,500.
But the Blues would skip town in 1942, leaving Madison without a minor league baseball team until the Madison Muskies arrived in 1982.
An affiliate of the Oakland Athletics, the Muskies quickly struck a chord with the Capitol City, drawing a curious collection of dedicated baseball fans and hard-core partiers to Warner Park. It didn't hurt that the team went 87-52 in its first season, tops in the Midwest League.
With the irreverent, pony-tailed campus leader Leon Varjian leading cheers from atop the dugout, "The Fish" turned into a national story, earning the franchise a spot on CBS News' "60 Minutes" program.
But the team could never again match the 131,646 fans who flocked to Warner Park in 1983, despite a parade of top-notch ballplayers that included major leaguers Terry Steinbach, Tim Belcher, Jose Canseco, Luis Polonia, Rick Honeycutt and Scott Brosius, among others.
With attendance slipping to 83,000, or 1,233 per game, by 1987, a new ownership group headed by Madison attorney Chuck Barnhill decided to take a shot at running the franchise. They initially reversed the attendance slide but still faced the same financial challenges of running a minor league baseball team in a cold weather climate.
Barnhill recalls how transportation costs alone throughout the Midwest League were crippling to a team that had built its fan base under the previous owners in part by discounting or simply giving away tickets.
"We lost more money in April and May, when no one came to the games, than we made the rest of the summer," he said.
Finally, after the 1993 season, Barnhill handed the Midwest League franchise over to a group from Grand Rapids, Mich., and the Muskies ended their 12-year run with the city. The Fish went out big, however, playing to its largest crowd in history as 4,624 fans jammed into Warner Park.
"Hey, I think we finally found a promotion that works,'' quipped Brad Fischer, the first manager of the Muskies, who came back for the finale.
Madison wasn't without a team for long, however. The St. Louis Cardinals Class A team moved from Springfield, Mo., for the 1994 season, playing for one year as the Madison Hatters before moving to Battle Creek, Mich.
Then, with the north-side location of Warner Park being blamed for the demise of the Muskies and the failure to keep the Hatters, there was lots of talk about trying to build a new ballpark to land a team in the new Northern League, an independent professional circuit (now known as the American Association) featuring ex-big leaguers that had made a huge splash in St. Paul, Minn.
Amid much fanfare in 1995, a local investment group headed by attorney Pat Sweeney announced that a Northern League team — the Madison Black Wolf — would begin play at Warner Park in 1996. A snazzy black, silver and blue logo was introduced as well.
With a shorter season and less overhead than a team affiliated with a major league club, many saw the Black Wolf as a better fit for the Madison market. But from the beginning, the team was rooted in the idea that it would need a new ballpark to turn a profit.
There was talk of a new stadium in Fitchburg or perhaps a major upgrade to city-owned Bowman Field on Fish Hatchery Road. Nothing materialized, however, and the Black Wolf never gained a strong community following.
"The problem for the Black Wolf was that they were always looking for someone to build them a new stadium and that just wasn't going to happen," said city of Madison recycling coordinator George Dreckmann, who spent one summer as the public address announcer for the Black Wolf.
By the end of the 2000 season, the Black Wolf were dead last in attendance in the league, having lost money in all of their five seasons, with total losses estimated at nearly $1 million. With no new public stadium in the offing, the team folded.
And that is where the Mallards story really begins.
Dick Radatz Jr., co-founder of the Northern League rival Northwoods League, saw a chance to get into the Madison market. Radatz was fully aware of the city's on-again, off-again love affair with minor league baseball but thought his model based on using unpaid college players might just work.
The new Madison Northwoods franchise was unveiled in October 2000, with Radatz saying it would need to average 275 fans per game for its 32-game home schedule to break even.
Radatz then hired Stenman, who had been working for the Minnesota Wild NHL hockey team but was familiar with the Northwoods League, and brought the then 23-year-old to Madison to head the new franchise as general manager. Before Stenman even arrived in Madison, however, the franchise had been sold to Schmitt.
"Vern came along with the deal," joked Schmitt, a long-time amateur baseball player himself in the Home Talent League who had been an owner in a short-lived minor league hockey team in Madison.
Schmitt bought the Mallards the same year the NCAA placed UW-Madison's athletic department on probation for five years and reduced scholarships for football and men's basketball after a shoe-discount scandal at the Shoe Box.
Undaunted by his bad publicity, Schmitt dove headlong into the baseball venture. He was at the ballpark early every game day, helping cook hot dogs, straightening the banners and checking to make sure the restrooms were clean. His experience building a wiffle ball park next to Rookies had given Schmitt a vision he was able to expand full-scale.
And whereas owners of the Black Wolf were constantly talking about the need for a new stadium closer to the Beltline highway, Schmitt focused on making Warner Park the best it could be. He painted it Mallards green, flew flags over the grandstands and started jamming the place full of baseball memorabilia just like in his sports bar.
"I've got this theory that Steve has a fear of open spaces, which is why he feels a need to fill every open space with stuff," said Dreckmann, who has become an avid Mallards fan.
That Schmitt has become so successful with the team is no surprise to Radatz. He says anyone who could take a rural shoe store and turn it into a destination location known nationwide could sell just about anything.
"Steve is somewhat of a savant," he said. "The baseball thing was easy. "
A native of Black Earth who now lives on Lake Kegonsa outside Stoughton, Schmitt seems unfazed by the success. He counts people like St. Louis Cardinal Hall of Famer and ex-Milwaukee Brave Red Schoendienst as a personal friend and Shoe Box customer. He was invited to throw out the first pitch at a Cardinals game earlier this season by team manager Mike Matheny, whose son Tate will play outfield for the Mallards this season while living at Schmitt's lakefront home.
To Schmitt — who says he became a Cardinals fan as a boy listening to the late-night broadcasts over powerful KMOX radio out of St. Louis — nothing could be simpler.
"It's baseball, it's green grass, what could be better?" he says.